27 Jun 2013
On the moving of Transition Culture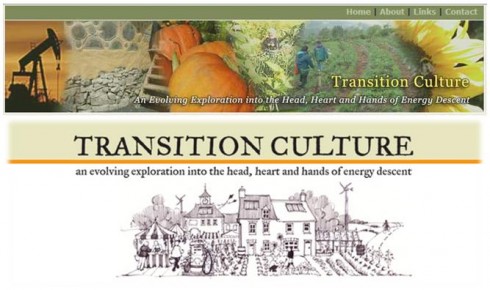 This is the last post that will appear here at Transition Culture. From now on it will remain as an archive, in which you are very welcome to still rummage for buried treasures. I am deeply grateful to my friend Tom in Ireland who said "you should start a blog". I barely knew what a blog was at that stage, and really had no sense of why I should be starting one. It took a while, but it became infectious, a daily practice. What my sketchbooks, my diaries had been, places to explore ideas, sketch out thoughts, see what ideas looked like when laid out for others to see, my blog now became. It was a steep learning curve. I had to learn bits of coding (WordPress was pretty basic then). I had to learn the art of blog writing, which is a different discipline from writing articles. But I loved it. And its readership grew steadily.
Having your own blog is an intensely personal thing. It's your space. You edit yourself. It's your own little corner of the internet. You decide what goes up and in what format. You discover, over time, the boldness to give yourself permission to write silly stories about slugs and potatoes without the fear that somehow this devalues the credibility of the rest of the site.  This feels like a moment that should be marked somehow. Not sure what's the best way to do that. How about some fireworks?

Or perhaps some kind of reflection on my own favourite posts? I think I liked the April Fool about Danny Boyle buying the rights to remake 'In Transition 2.0' with proper actors and a racier storyline, I enjoyed the one about the Mercado de la Esperanza in Santander, and I enjoyed the one about the Lego house with solar panels on.   I thought you might find it interesting to see which have been the most commented posts on Transition Culture over the last 8 years. Here they are:
As you can see, basically it is all the ones that were a bit more edgy, a bit more combatative, the ones that were are bit feisty and outspoken.  That is definitely a tradition we will uphold in our new home.  Anyway, it's not really the end, more a new beginning. As of today, I will be posting in my new home at www.transitionnetwork.org. It may take us a while to settle in, but it will be the same content as you are used to here, with more besides. Indeed we start today with a post called Knitting your own MRI scanner.  Or not, which takes to task some of the lazier Twitter Transition bashers.
Tomorrow I'll be passing on a fantastic idea that could make you millions (with the proviso that if you implement it you cut me in), and then we have a wide-ranging interview with Lord Adair Turner, former head of the UK Climate Commission and the Financial Services Authority. We've lots of other great stuff lined up for you too.  Come on over.
This landmark gives me the opportunity to thank some of the people who have helped to make Transition Culture what it has been. Firstly the wonderful Simon at LumpyLemon, a webmaster supreme who I would recommend to anyone. Eleanor, who transcribes a lot of the interviews and so on that you read here, and the many others who have done it in the past. Transition Network, for resourcing me for some of the time I spent on it, as well as much of the material. Amber, and before her, Helen, for pulling together the monthly round-ups and other content and for all manner of support. Ed at Transition Network for all his input. Tom, for first suggesting that a blog might be the way to go.  And most importantly to you for your comments, ideas, for turning up and reading the stuff I posted here, for entering competitions and falling for April Fools jokes.  Without you it would just have been me sitting with a laptop.
See you in our new home. I'll put the kettle on.