23 Apr 2013
Introducing the Transition Research Primer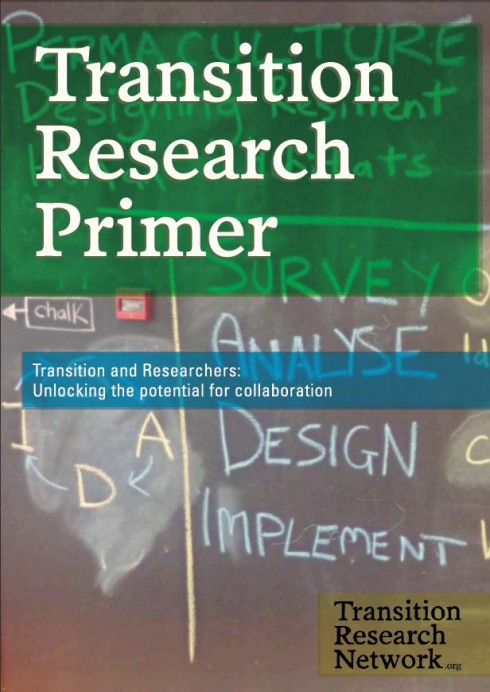 With some considerable amount of fanfare and dancing elephants, I would like to introduce you today to the all-new Transition Research Primer.  It is the creation of the Transition Research Network (TRN), a self-organising peer group of academics and community activists which aims to:
Help advance understanding and practice in Transition
Support Transition groups to address their research needs
Help transform the crisis in our universities into an opportunity for positive change in research culture, making research relevant, fulfilling, and fun.
The Primer is available here.  I spoke to one of its authors, Tom Henfrey, a researcher in the Centre for Social Justice and Community Action at Durham University and Bristol's Schumacher Institute, to ask him more about it and how it came about. I started by asking him what is the Transition Research Network?  He told me that at meetings at the 2010 and 2011 Transition Network conferences it became clear that there was a lot of interest from researcher in Transition, but the potential benefits were not being realised due to the cultural mis-match between the two.  After the 2011 conference, Tom and Michelle Bastian got together with Ben Brangwyn and Naresh Giangrande of Transition Network and Larch Maxey of University of Plymouth to start mapping out what a Transition Research Network might do.
A funding application based on these discussions led to Transition Network, in partnership with Tom, Michelle and academic colleagues at Durham, Bradford and Glamorgan Universities, and with support from Transition Network's Nicola Hilary, being awarded a £78,000 grant from Connected Communities for a project entitled, "Connection, Participation and Empowerment in Community-based research: the case of the Transition Movement".
Here's Tom's response to the question "what is the Transition Research Network"?
As well as the AHRC funding support, the North East and Manchester Beacons for Public Engagement agreed to fund two meetings of the new Transition Research Network (TRN). The first took place in Manchester in November 2011, and the second in Plymouth in February 2012.  The Primer draws upon the Connected Communities research and was supported by a further grant to Transition Network from AHRC, and is one of the Transition Research Network's first major outputs.
It provides an accessible overview of the potential benefits of working with researchers, along with common pitfalls and advice for successful collaboration. It offers a taster of their broader work and provides a great resource for researchers approaching Transition for the first time and wanting to engage, either with a local initiative or Transition more broadly.  I asked Tom what, for him, is the Transition Research Primer?
Transition, with its bottom-up, self-organising ethos, is culturally very different from academia, which can tend to be top-down, very hierarchical and focused on status and output.  Reconciling the short-term needs of a researcher to extract data and the longer-term needs of the Transition initiative has, on occasion, proven somewhat fraught in the past.  I asked Tom how, for him, these two culture differ and what they can offer each other:
Other projects of TRN include a very useful research protocol for researchers wanting to work with Transition initiatives which is soon to evolve into a different approach, modelled on Christopher Alexander's 'A Pattern Language' approach, and the Transition Research Marketplace, which "will make requests for research by transitioners visible to researchers and vice versa", a very useful resource.  Transition Network is also one of 13 partners who formed a consortium to make a proposal to the EU's seventh Framework Programme called TREE: Transition, Reporting, Evaluation and Engagement.  Here is a short video about their proposal: