21 Nov 2012
A Transition crowdfunding 1: Please support Transition Free Press!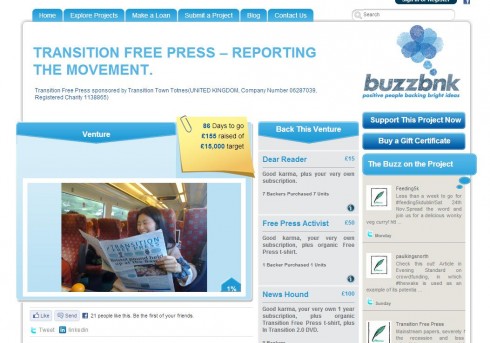 There are a couple of exciting Transition crowd-funding opportunities around at the moment which it would be great if you could support.  I'll tell you about the second tomorrow, but the first is being run over at BuzzBnk by Transition Free Press, the newspaper for the Transition movement (you can see their sample first edition here).    Find out more here, and please support this vital addition to the Transition output become a reality and enable TFP to reach their target.  Here's what the folks at TFP themselves say about it:
"The Transition Free Press provides a clear voice reporting on the growing movement to build low carbon, regenerative, and resilient communities. With the Transition movement clearly in focus, Transition Free Press will also report on developments in new economics, relocalisation, food and energy security, social and environmental justice. Unlike the mainstream media, the Transition Free Press will deliver an alternative view of the world, one that isn't controlled by corporations or wealthy individuals. 

Developments in these areas are poorly reported in the mainstream press, if at all. These are critically important stories that concerned citizens will want to know about. Indeed, these are stories that must part of the national and international conversation about our ability to adapt to a rapidly changing and increasingly perilous world.

The Transition Free Press is 24-page newspaper containing news, views, and analysis. It's published quarterly and is available by subscription, as well as through distributing Transition initiatives and other community groups. It will also include branded local news inserts for distributing groups to use. It's produced by a not-for-profit collective and is supported, although not financed by, the Transition Network.