13 Jun 2012
It's the Transition Network conference 2012! "Building resilience in uncertain times"

It is always very exciting to be able to post the first taste of what the year's Transition Network conference is going to be like, and this year is no exception.  This year we are back in London, hosted once more by the wonderful Battersea Arts Centre (BAC) (where we were in 2009), and the Conference teams are in the thick of planning a weekend of events and workshops that explore the theme of "Building Resilience in Extraordinary Times". [Full details can be found here, which will be added to as the event evolves].
We have an ambitious programme for this year's event, with 5 distinct elements, which can be attended as stand-alone events or in combination (dates permitting):
Main Transition Conference: Friday 14th September (6.00pm) to Sunday 16th September (4.30pm)
REconomy Conference: Friday 14th September (9.30am to 5.00pm)
Youth Symposium: Friday 14th September (9.30am to 5.00pm)
National Transition Hubs gathering: Monday 17th September (9.30am) to Tuesday 18th September (1.00pm)
Transition THRIVE training: 2 full days, dates tbd
****Tickets are NOT on sale yet – we'll be opening up for bookings later in June****
Main Transition Conference
The Main Transition Conference will explore the theme of "Building Resilience in Extraordinary Times". It'll give you the chance to connect with people from all over the UK – and if other years are anything to go by, from all over the world – who have taken the Transition approach into their hearts, lives and communities.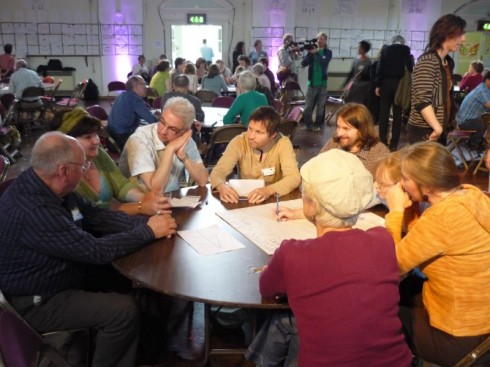 If you are new to Transition, this will be an opportunity to make new friends and plunge into a rich pool of ideas, inspiration and practical learning that will help you do the things you want to do back at a home base.  If you have been round the Transition block a few times already, this is the place to refresh your energy, catch up with old friends and immerse yourself in what's new in Transition.
Our theme this year will be explored through a wide variety of activities and processes including programmed workshops, an Open Space afternoon, walks and visits, and a great Saturday evening of entertainment, including an open mic slot.  It will draw in elements of the REconomy and Young Transition conferences happening the previous day, and introduce a new ingredient for 2012: a Cook Up.
As we look at the question "How do we engage our communities in the Transition things we do?", you can opt to roll your sleeves up and get practical, working alongside each other to "cook up" mini events, demos or activities that showcase Transition in Action.  It could be an instant edible landscape, a local currency, a feast, an energy company, an Inner Transition workshop, a piece of theatre or a Transition newspaper.
These different "creative acts of community" will be shared with everyone at the Conference, with Battersea Arts Centre staff, and with invited members of the local community.  This is a real taste of Transition In Action – a big and bold experiment as part of a conference, but a rich learning event that we will co-create together, have fun with and celebrate.
The full programme will settle into place over the coming month, and we will keep you updated as it gets finalised.
What's a Transition Network conference like?
If you haven't been to a Transition conference yet, or you can't remember last year's, have a read of the 2011 conference blog which covered much of the action, or check out the totally impressive 2011 conference write up page.
Tell me more about the REconomy, Youth, Training and National Hubs events
The REconomy event builds on the extensive body of work and momentum created by the REconomy project around social enterprise. It's a collaboration between Transition Network, the new economics foundation and the hundreds of Transitioners who have contributed so far. Check out the website, particularly the "about" and the "what's a Transition social enterprise" pages.
The Youth event is entitled "Which Future do I Want?" and will be a collaborative exploration into how young people can find or create meaningful livelihoods in a rapidly changing world. There will be open space sessions, world cafe conversations, mini workshops and time for just meeting and talking. Mark Boyle (author of The Moneyless Man), Rob Hopkins (co-founder of Transition) will be present. We also hope that individuals in Transition Initiatives in the economically challenged countries of Greece, Spain and Portugal will be sharing their stories with us.
Additionally, we will be launching our new one-year learning journey for over 18s called "One Year in Transition" as well as catalysing a "Youth in Transition" network for those who want to stay in touch with like-minded people as they navigate the uncertain times ahead. Elders involved in Transition are warmly invited to attend and participate.
The Transition THRIVE course will run in the days before the conference, and is designed to help you to sustain momentum both in your Transition Initiative and also at a personal level. Course details are here and here's some feedback from the first course we ran (and we've made some significant improvements since that first one).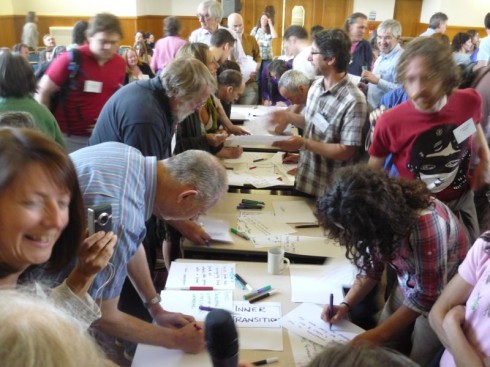 An international gathering of National Transition Hubs will circle up for two days of problem solving, mutual support, visioning and planning to help ensure that there's a solid, proactive, motivated and well-skilled group helping support transition wherever it appears around the world. This event is being co-managed by Filipa Pimentel, National Hubs coordinator.
It looks set to be an amazing few days, put it in the diary, and we look forward to seeing you there…