21 Feb 2012
Put it in the diary: The REconomy Project: Local Entrepreneur Forum, Totnes, March 21 2012.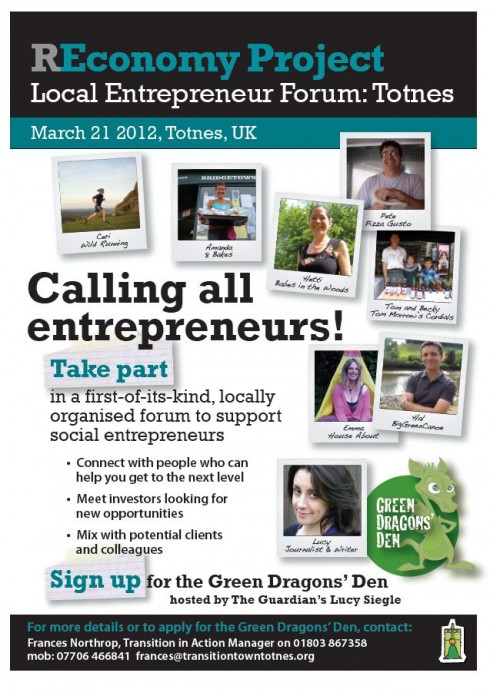 The REconomy Project: Local Entrepreneur Forum, taking place on March 21st from 8:30am-4pm at Totnes Civic Hall, will bring local entrepreneurs, investors, and experts together for an all-day event that will include learning, networking, and deal-making.  Speakers for the event include Jonathan Dawson, Head of Economics at Schumacher College, Jason Mollring, Head of Connect at UnLtd. Connect, a social enterprise think and do tank, based in London, REconomy's Fiona Ward, Rob Hopkins of Transition Network, Frances Northrop, Totnes' Transition in Action manager and Lucy Siegle, Guardian columnist and One Show presenter, who will host a Green Dragons' Den, where 5 of the best new business ideas in Totnes and District will try to impress the Dragons.  
"We fully expect that several new enterprises will launch as a direct result of connections made at this event," said Frances Northrop, Transition in Action Manager with TTT.  "We've designed it to give local entrepreneurs the chance to meet investors and industry experts – and vice versa.  It's up to them to seize the opportunities."
Starting a new business in South Devon is challenging due to lack of available resources, such as access to start-up expertise, angel investors, and inexpensive office space.  By bringing experts and investors into the same room as entrepreneurs, organisers of the event hope to begin to overcome these challenges.  The Local Entrepreneur Forum is modelled on similar events that have proved to be effective in places like London and Silicon Valley.
The event will also mark the launch of a new enterprise incubator which will offer a suite of services designed to support entrepreneurs and launch new businesses, including business plan coaching, mentoring, a youth program, and investor matching.  Entrepreneurs at any stage of development are also encouraged to apply for the Green Dragon's Den event.
The event is hosted by Transition Town Totnes.  TTT is a registered charity focused on developing community resilience and sustainability.  Helping to launch and nurture new social and sustainable enterprises is an important path toward this goal.  Other projects include the Totnes Economic Blueprint, REconomy Project Enterprise Centre, and Food Link.  For information on booking, click here, and to download the pdf of the poster, click here.