8 Dec 2011
Seeking your ideas: how to calculate the turnover of a supermarket?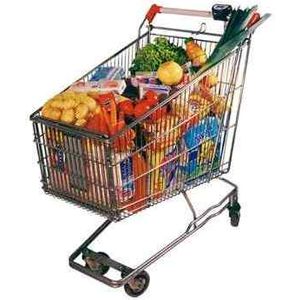 Here's a guest post from Fiona Ward, setting the Transition community a brain teaser…
As part of the Economic Blueprint work we are doing in Totnes, Manchester and Hereford (part of the wider REconomy project) we are collecting data about the current local economy in each place. In particular, we want to understand much more about the current businesses; what they do, how many people they employ, what skills those employees have etc. In particular we want to know their turnover.  We can then use this information to give us a full picture of our local economy, and we can better understand where our local community spend their money.
For most businesses we can get this as it's public data. But we can't get this for the big supermarkets, as their revenue data is not reported publicly by store location. Clearly this is an area of great interest for us. There's general stats we can use such as "almost three-quarters (72%, £37.70 per week) of food and non-alcoholic drinks were purchased from large supermarket chains, an increase of £1.20 on the previous year" (ONS Family Spending Edition 2010). But we'd like to know the true picture where we live, if we can.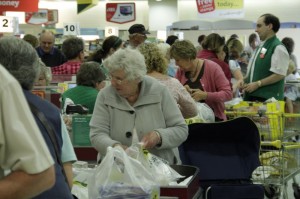 Being a creative lot, we wondered if anyone out there has any ideas or experience in how we can best estimate what a big-6 supermarket's turnover might be, in a specific location. This would need to take into account things like store size and what they sell i.e. super store, food only, food and clothes etc.
If anyone has any (legal!) suggestions as to how we might fill this gap in our knowledge, please do let us know. You can post comments below or email fiona.ward (at) ttandc.org.uk.  Thanks!