13 Oct 2011
A tale of two book launches and announcing today's virtual Twitter one!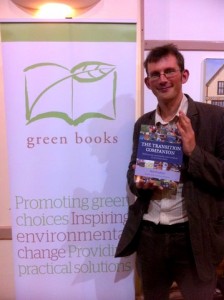 There have now been two launches of The Transition Companion.  The first took place on October 5th in Totnes Civic Hall, and the second was yesterday, on the roof of Food from the Sky in Crouch End, an amazing urban agriculture project in London.  Today sees a third, our Twitter book launch!  The idea is that from 2pm – 5pm today, I will be on Twitter (@robintransition), answering any questions you might have about the book, responding to any requests for signed copies, and generally tweeting about 'The Transition Companion' to anyone who takes an interest.  The hashtag is #ttcomp.  See you there.
Both of the actual physical launches felt like really rewarding opportunities to introduce and unveil the book to people, and it now feels suitably launched.  Both also began with a Transition pub quiz, which I'll put on the website in a couple of days to see how you would have done had you been able to make it.  It has to be said that most people did pretty well, I must have made it too easy!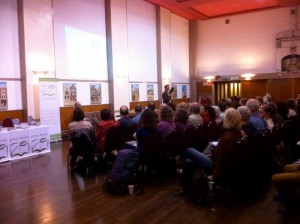 At both launches the book was introduced in the context of how the Transition Handbook (now sadly out of print!), although a great summation of Transition at the time it was published, has since been rapidly overtaken by events and failed to capture what Transition has become, in particular the inadequacy of the '12 Steps of Transition' model to truly reflect the complexity and the breadth of what Transition has become.
The collaborative process that has run for the last 18 months of identifying and collaboratively building a collection of 'ingredients' has resulted in a book which is rich and far more reflective of the movement (these will also be made available online soon).  It is rich with stories, photos and anecdotes sent in from around the world.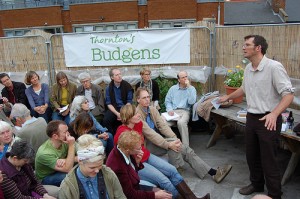 The Totnes event wasn't dependent on the weather, whereas the London event, on a rooftop 3 storeys up would have been a very different event had the heavens opened, or the wind picked up.  In the event, it started out cloudy and grew steadily brighter, by the end it was positively sun-drenched.  People from a range of London groups attended, and Transition Leytonstone event presented the event with a bottle of 'Transition Ale', brewed by their local brewery to mark their second birthday.
The London event also won in terms of music, the event being opened with a song from a Bangladeshi member of staff in the Budgens supermarket, who sang about a vegetable grown there which sometimes grows to such a size that it can be hollowed out and turned into a stringed instrument, which his song was written to be accompanied by!
At the Totnes launch, a few rows of the seats were taken up by people visiting the town as part of a 'Transition Tour', students from the US.  They had chosen to visit the town during an amazing Transition-filled week, one that included an event every night of the week, including the launch on the Tuesday evening, and Bill McKibben on the following night.  During my talk I waxed lyrical about community breweries, and the following day, Hal Gillmore, who hosted the tour, texted me to say that one of the students had said afterwards, "I don't want to be an architect any more, I want to be a brewer".  I'm expecting the irate letter from indignant parents from the US soon.
Although at the Totnes launch the place was well-stocked with books, which flew out of the door (metaphorically of course, not literally, that wouldn't work at all), the London launch came very close to being bookless.  An arrangement had been made that a nearby bookshop would bring books to sell, but when, with an hour to go, they still hadn't shown up, we felt a Plan B might be a plan, so the book's distributors in London couriered a couple of boxes over which arrived half way through the event!  They weren't enough, and we sold out pretty early on.
The Totnes crowd didn't have many questions, but at Food from the Sky there were loads, and the event finished with an opportunity for the different London groups to stand up and talk about things they have underway.  Both events were attended by lots of good friends, as well as by lots of new people, a perfect mixture.
We are also now shipping orders from Transition Culture, in spite of a slight delay in getting extra books to cope with the demand.  The kitchen table is now covered in books, wrapping, sticky tape and address labels.  If you have ordered a copy, stand by your post box, it should be with you soon!  My thanks to everyone at Green Books, Food from the Sky, Crouch End Budgens and Transition Network who made these events happen, and to everyone who turned out.  My thanks also to Stacey, Jo and Mike for use of their photos here.  You can see Mike's collection of photos from the London launch here.