6 Jun 2011
Competition Time! Win a copy of Dave Hamilton's 'Grow your food for free (well almost)'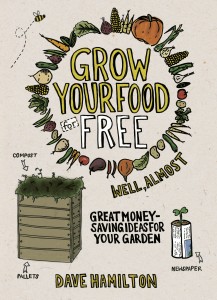 Dave Hamilton's new book 'Grow your food for free (well almost)' was published a couple of weeks ago, and is rather wonderful (see this review, for instance).  It shows how gardening can be done on the cheap, by recycling materials creatively and making the most of what you have.  Organised season-by-season, it is packed with inspired ideas for avoiding the expensive solutions suggested at garden centres and in gardening magazines, and growing great produce on the cheap.  It is bright, colourful and fun, but packed with ideas.  Thanks to the generosity of those good people at Green Books, we have 5 copies to give away for free in our wildly challenging gardening-themed competition below.  Fingers on buzzers, here we go….
What follows are 10 money-saving tips for gardeners taken from 'Grow your food for free (well almost…), although two of them are entirely fictitious and made up by yours truly, while the rest are true.  Email me (don't post your answers as comments) by midday on Friday 17th June (to rob (at) transitionculture.org) and let me know which are the two incorrect ones… good luck…
Toilet roll holders make excellent pots for starting seedlings off in, especially peas and beans
Save a fortune on plastic plant labels by cutting yoghurt pots into strips and writing on them
Middle sized slugs, left out in direct sun for 10 minutes make an excellent substitute for Blutak when sticking posters to your shed walls
Good strong fences can be made with timber obtained by dismantling pallets
Old demijohns, with the bottoms cut out, can make excellent cloches
Save a fortune on fruit trees by haggling for those that garden centres chuck out at the end of the season (this can be a good way to get other perennials too)
Spent hops from a local brewery make an excellent mulch (although they smell a bit odd initially)
Clubbing together with friends to buy seeds can lead to larger orders which give much bigger discounts
Old building rubble salvaged from skips can make great paths and/or stepping stones
You can save a fortune on driving to your local recycling centre to dispose of diseased plant material by simply tossing it over the hedge into your neighbour's garden.
Dave describes the book thus: "rather than re-write another book you can find in any charity shop this book aims to teach people how to improvise with what they have around them. I wanted to write the kind of book I'd like to read, a sort of Douglas Adams meets Gardeners' World. I'm not sure I quite achieve the genius of Mr Adams (it's especially difficult in a gardening book!) but I hope you find it entertaining anyway."  You'll love it…