22 Dec 2010
An Update on the 'Ingredients of Transition' project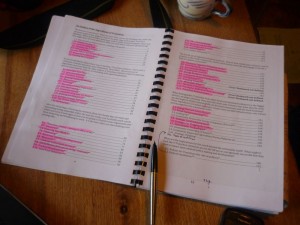 My mission had been to get a first draft of all the ingredients done before the Christmas break, but I haven't quite managed it: of the 62 initial ingredients there are 8 still to do, 6 of which I haven't started yet and 2 of which are nearly completed.  The idea after Christmas is to finish the outstanding ones and then to go back thr0ugh them weaving in your comments, as well as doing the framing section of the book, with an overall deadline of the end of March.  Gulp.  Anyway, we're doing alright I think.  So, by way of an update, here is the list of ingredients, showing you what's already done, with links, as well as the outstanding ones, which are those not shown as links … do keep the comments coming in, they have been so vital in shaping this project…. perhaps this is also a useful point to reflect on what you think of this project so far, and how it is progressing?
1 — What we start with
1a — Post petroleum Stress Disorder
1f — How Others See Us/How We Communicate
2 — Getting Started
2d — Running Successful Meetings
2g — Becoming a Formal Organisation
2j — Communicating with the Media
2l — Building Strategic Partnerships
2m — The 'Project Support' concept
3 — Ongoing/Deepening: maintaining your initiative beyond the start-up stage
3a — 'Transition Towers' – having an office or not?
3b — Volunteers and Volunteering
3e — Emotional Support/Avoiding Burnout
3g — Celebrate Failure (and success!)
3h — Gathering Feedback / How Are We Doing?
3l — Working with Local Businesses
3o — Conflict Resolution
4 — Patterns for Outreach
4a — Street-by-Street Behaviour Change
4b — Form Networks of Transition Initiatives
4e — Energy Resilience Assessment
4f — Community Brainstorming Tools
4n — Pausing for Reflection/'How Am I Doing?'
5 — Patterns for Implementing Transition Infrastructure
5a — Energy Descent Action Plans
5b — Social Enterprise / Entrepreneurship
5c — Scaling Up
5d — Community Renewable Energy Companies (ESCOs) (in draft, being reviewed)

5e — Strategic Local Infrastructure
5f — Strategies for Plugging the Leaks
5g — Intermediate Technologies
5h — Community Ownership of Assets
5i — Community Supported Farm, Bakeries and Breweries

5j — Strategic Thinking
6 — Scaling Up Beyond the Community
6a — Policies for Transition
6b — Peak Oil Resolutions