3 Dec 2010
Ingredients of Transition: Community Brainstorming Tools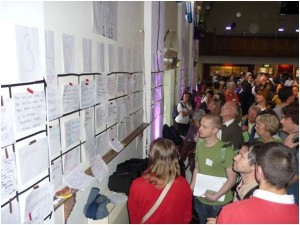 Here is the ingredient about World Cafe and Open Space.  I would love to be able to weave into it your stories about when you have used them, when they worked, and perhaps even when they didn't.  Do post any thoughts as comments please…
Context
Thinking about the implications and responses to peak oil and climate change on your own can be dispiriting and lead to POST PETROLEUM STRESS DISORDER (1.1).  Brainstorming tools such as Open Space and World Cafe can be a pivotal part of your AWARENESS RAISING (2.9) work, and can also give birth to a number of PRACTICAL MANIFESTATIONS (3.9) and to people FORMING WORKING GROUPS (2.11).
(We are collecting and discussing these Transition ingredients on Transition Network's website to keep all comments in one place. Please leave feedback and comments, suggestions for alternative pictures, anecdotes, stories and projects for this ingredient here).
The Challenge
We have become a society which increasingly believes that little can be done without input from experts and specialists. It is an approach which is often disempowering and ineffective. We need to rediscover how to unlock the collective knowledge, and indeed genius, that surrounds us, and engage it in addressing the big challenges of our times.
Core Text
We have become used to the idea that if we want to make change happen what we need is a coachload of experts who arrive, walk around with clipboards and then subsequently send us a plan to implement.  However, much of what we need is already present around us, all we need are the tools that enable us to unlock the collective knowledge and ideas of our community.  Two of the approaches used most often in Transition are World Cafe and Open Space.  I will try here to offer a concise overview of both, hopefully in such a way that you would run a session on either with this book propped open next to you.
Open Space Technology [1] is a tool for using with groups from 800 to 1,000 people who need to explore a major issue. According to its originator, Harrison Owen, it is based on 4 simple 'rules' …
Whoever comes is the right people
Whatever happens is the only thing that could have happened
When it starts is the right time
When it's over, it's over
…. and one 'law', 'The Law of Two Feet', which states that:
"If, during the course of the gathering, any person finds themselves in a situation where they are neither learning nor contributing, they must use their feet and go to some more productive place."
So here is a step-by-step guide to facilitating Open Space.
You'll need a room large enough for those attending to be able to sit in a circle, and a wall you can stick things onto, and also a number of distinct places (rooms, tables, corners) where conversations can take place.
You will also need a clear question, which has been circulated in advance in publicity and invitations for the event
Sit participants in a circle.  In the centre is a pile of sheets of A4 paper and pens, and on the wall is an empty timetable, with the timings of the different sessions on one axis, and the various breakout spaces on the other.
Explain the rules of Open Space and that the only prerequisite for proposing a question is that you undertake to host that discussion and take legible notes of what is said
Anyone with a question writes it on a sheet of paper and sticks it to the wall (you may well end up with more questions than you have slots available, in which case consolidate relevant ones together)
Once your timetable/agenda is complete, allow people a few minutes to look at it and work out what they want to go to, and then ring a bell, or something similar, to announce the convening of the first session.
In theory, the rest of the day will now organise itself!
At the end of each session, ring a bell to let people know it is finished, then go round and collect up the note-filled sheets, and put them up on the wall in the area you have pre-designated as the 'Market Place'.
Leave 30-40 minutes or so at the end for a go-round, for reflections on the event and the process itself, rather than issues raised.
Open Space works not only as a tool for gathering ideas, but also serves a powerful role in somehow leading to the emergence of practical projects.  There is something in the intention of conceiving ideas and meeting others who share that passion which also serves to bring ideas into being.  For example, in October 2006, Transition Town Totnes held an Open Space event on energy called 'Powering Totnes Beyond Cheap Oil – rethinking Totnes's energy supply'(see left).  It is fascinating, nearly four years later, to look back and see how many of the ideas and visions which emerged during the day have subsequently come to be realised.  At least 10 of the ideas, mostly substantial projects, are now underway, sometimes, but not always, held by the people who had originally suggested them at the Open Space event.
Why might it be that this Open Space event appears to have led to the emergence of new initiatives?  It is partly because those who had the ideas brought them to the event looking for collaborators to make them happen, partly because the ideas informed the work of TTT and partly because it brought ideas out into the open and began a process of exploring their feasibility which, in turn, attracted others.
World Café has been summarised as being about "awakening and engaging collective intelligence through conversations about questions that matter".  It is a powerful tool for exploring specific questions. It differs from Open Space in that it is less chaotic and self-directed, offering a powerful way of exploring specific questions and issues. It is based on the idea that for many people, the place where the richest conversations take place are places where they feel relaxed: at a table – be it a kitchen table or a table in a café – with a cup (or glass) of something in their hands and perhaps some biscuits.
Here is a step-by-step guide to running World Café:
Plan the event well, frame the question(s) that will be explored, decide who should be there and how you will invite them, where and when it will be, and what outcomes you are hoping for from the event
Create a hospitable space, somewhere people will feel comfortable, with round tables set out café-style, with room at each for around 5 people, with paper tablecloths, marker pens, flowers and perhaps a candle, and provide food and drink
Make sure that the questions you will be exploring (either one overarching one or a number of questions that explore different aspects of an issue) are relevant to those attending, are clear, thought-provoking and invite reflection, invite the exploration of possibilities and connect those present to why they came
Encourage everyone to contribute by maximising the number of interactions.  Every 15 minutes, a bell is rung indicating it is time to move to another table. Over the space of a few hours, participants get to meet most, if not all, of the people in the room, and exchange ideas and thoughts with them
Each time people move to another table, they bring threads of conversation they were at to a new group of people.  Each table has a Host, whose responsibility it is to scribe the points raised in each conversation on the tablecloth, so as to create an accurate (and legible) record of what was discussed.  Each time the groups change, the new session begins with the Host sharing what was previously discussed at that table, and the new people briefly share what happened at the tables they were on previously
At the end, the event is drawn together through a sharing of the collective discoveries.  You might pin up all the written-on tablecloths for all to see, you could have a 'go-round' where each host summarises the main conversation points on his or her table. This could then be followed by a more general 'go-round' to give people an opportunity to share reflections on the process, how it went for them, and what deeper questions were raised. This process can also be continued by typing up the sheets and emailing them out to everyone a few days later, as 'minutes' of the discussion.
So there you have it, ambience, good food, conversation, lots of mingling and an outpouring of ideas; World Café, and Open Space, in a nutshell!
The Solution
Find ways of enabling people in your community to find solutions to the challenges facing them. Use Open Space and World Cafe (making sure you are clear as to where it is most appropriate them) to facilitate community brainstorming and to draw out the ingredients of a collective vision for the future of the community.  Well designed and facilitated, they are extraordinary tools.  Make sure that each event has clear questions, and trust in Open Space's ability to enable people to self-organise.  For anyone with leanings towards being a control freak, running Open Space is terrifying, but trust it, it works!  Both tools are flexible and inclusive and can be used in many different contexts. However care must be taken to not use them in ways in which they are not suited.
Connections to Other Ingredients
Facilitating these events offers a great opportunity to practice STANDING UP TO SPEAK (1.8).  Holding brainstorming events can be a great way of generating MOMENTUM (3.6) if an initiative has got stuck, and they can also be focused on addressing particular issues, such as ENGAGING LOCAL LANDOWNERS (4.8).  Ideas and insights they generate can provide very useful input for ENERGY DESCENT ACTION PLANS (5.11).
---
[1]
Most usefully described in Owen, H. (1993)
Open Space Technology – A User's Guide.
San Francisco, Berrett-Koehler Publishers.
Please leave any comments here.