3 Dec 2010
Ingredients for Transition: Celebrating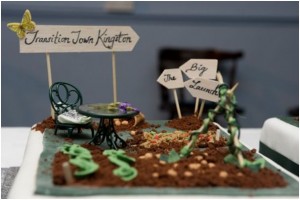 Following the feedback on the 'Transition Cakes' pattern, I am attempting here to weave some of that material instead into this one about 'Celebrating'…
Context:
Celebration is a great way of overcoming POST PETROLEUM STRESS DISORDER, for building PERSONAL RESILIENCE and providing EMOTIONAL SUPPORT/AVOIDING BURNOUT. It really should be considered a key feature of BECOMING A FORMAL ORGANISATION, key to maintaining the health and MOMENTUM of your work.
(We are collecting and discussing these Transition ingredients on Transition Network's website to keep all comments in one place. Please leave feedback and comments, suggestions for alternative pictures, anecdotes, stories and projects for this ingredient here).
The challenge:
Transition work can be busy, stressful, tiring and can sometimes feel as though you are shouldering the hope of the community. When engulfed in this mindset, one's very real achievements, from the great to the more subtle, can pass us by, unnoted. Events, relationships built, grants won, can all pass by in a culture which says that there simply isn't time for anything so frivolous and self indulgent as celebration. Yet without celebration, the whole process can easily lose its spark, and feel burdensome and exhausting.
Core Text
Those of us active in Transition, and in community sustainability initiatives, tend to be rubbish at stopping and celebrating what we have achieved. We often feel so driven, with such an impending need to act, that we rarely pause to take it all in. John Croft, a specialist on community-led change processes, has developed an approach to community development called 'Dragon Dreaming'. This argues that, based on his observation of hundreds of projects, that successful ones have four stages:
Dreaming or Visioning: the initial stage of asking "what would happen if…………?", "what would this sort of project look like?", "what do you think, does this sound like a good idea?", "can you imagine our town with a …………?" and so on, an unfettered and bold look forward into the possibilities of the future
Planning: here the project leaves the world of concepts and steps into the realm of practicality. In this stage questions asked might include: "how do we make this happen?", "who's going to design it?", "how many people in the team?", "what skills are we missing, or do we have?", and "how might we finance it?"
Doing: by the time you reach this stage you have signed your contracts, employed your workers, and installed the phone lines and your baby has come to life. The theory is now practice, and with time and familiarity it becomes so second nature that you forget that it was only a theory not so long ago. This is the time of birth
Celebrating and Evaluating: at this stage the emphasis is on celebrating the success of the project and looking at the failures and difficulties before starting the cycle again, asking, among other things: "has the project reached your expectations?", "which phases of the project went well?", "which phases were difficult?" and "was the project fun to work on?"
This emphasis on celebrating is something that can make a big difference to the success of Transition initiatives. It can take different forms. It might be as simple as people from your initiative going out for lunch together, or having a shared meal one evening. It can take the form of bigger events to celebrate key points in the evolution of your initiative, such as an Unleashing, or an anniversary of your first event. These things can be celebrated in a variety of ways. Singing, dancing, making things, a wide range of possibilities of celebrating where you have come from, what you have done, and where you are going. One of the most fascinating ingredients of celebrating that I see when I visit Transition initiatives in different places when they are holding celebratory events, is the role the food plays in celebrations.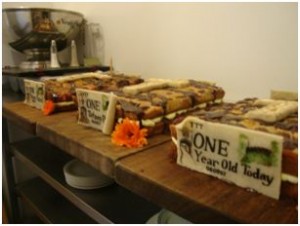 One of the most intriguing aspects of this is the role food, in particular cakes, often play in Transition celebrations. When they held their Unleashing, Transition Town Brixton produced the most extraordinary cake, huge, and beautifully decorated with the name of every Transition initiative that existed at the time painted onto the icing with food colouring. It was topped with a huge sparkler, forming a beautiful and tasty centrepiece to the celebrations. Transition Town Kingston's 'Big Launch' was graced by an exquisitely decorated cake with an allotment theme, complete with vegetables and a tiny table and chairs. Transition Town Totnes's first birthday party featured three amazing cakes, each complete with a marzipan Totnes Pound. At the Unleashing of Transition Bro Ddyfi in Wales, guests were treated to not one cake but nine, all in a row, with a story of the town's Transition running above the cakes, a kind of 'Edible Transition Timeline"1.
Of course, you don't have to restrict yourself to the one whole cake, in the spirit of celebration, you could invite people to make and bring cakes and sweets from whichever part of the world they come from, from Banbury cakes in Oxfordshire to Middle Eastern baclava or Brazilian Brigadeiros. There is something though about the love and creativity that people pour into a landmark celebratory cake or other celebratory foods at key moments in the evolution of their Transition initiative which feels very important.
Transition Town Lewes's launch of the Lewes Pound featured a mouth-watering and eye-catching spread of local food provided by a local restaurant, and the Unleashing of Transition Town Tooting had food provided by a local Indian restaurant. The message of this pattern is to celebrate the little things as much as the big things, to celebrate often, and that pausing to celebrate is very healthy for the initiative and all those involved in it. As they say, "all work and no play…"
The solution:
Celebrate and celebrate often. Celebrate the small things and celebrate the large things. Incorporate eating meals together into your meetings. Mark anniversaries. If this is truly to feel, as Richard Heinberg puts it, "more like a party than a protest march", then it needs good parties and events that feel celebratory.
Connections to other patterns:
A well designed celebratory event can be a great opportunity to do lots of different things. It could be your UNLEASHING, or it could serve to support your AWARENESS RAISING work, it could be an opportunity for FINANCING YOUR WORK or for GATHERING FEEDBACK/HOW ARE WE DOING and for CELEBRATING FAILURE as much as success. At any celebratory occasion there is always space for THE ROLE OF STORYTELLING, as a way of looking back over the project's recent past.
References:
1. Transition Network and Julia Ponsonby of Schumacher College have produced a guide to making Transition cakes, which can be downloaded as a pdf here.
Please leave any comments here.