2 Dec 2010
Ingredients of Transition: Financing Your Work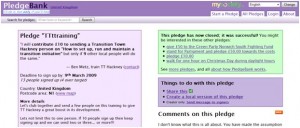 Today's ingredient of Transition is very much based around your responses that were sent in when I asked for your stories on how you finance/support your Transition initiatives.  Here is what I produced, there is still room for more stories, so do post them as comments below….
The Context
Maintaining MOMENTUM (3.6) over the long term of a Transition initiative will require some way of financially resourcing elements of its work.  It might be that some of the PRACTICAL MANIFESTATIONS (3.9) that get underway will require funding to get them started, while at the same time they can also be looked at as ways to generate income for the initiative.  Thinking about SOCIAL ENTERPRISE/ENTREPRENEURSHIP (5.2) need not just be a consideration for external opportunities, but could come to underpin how the initiative finances its activities.
(We are collecting and discussing these Transition ingredients on Transition Network's website to keep all comments in one place. Please leave feedback and comments, suggestions for alternative pictures, anecdotes, stories and projects for this ingredient here).
The Challenge
I often hear myself saying that at an early stage, enthusiasm is so much more valuable than funding.  You can get a long way just on enthusiasm, but you it is something that no amount of funding can buy.  The first year and a half of Transition Town Totnes, for example, was largely self-financing, but you will find you get to a point where funding becomes necessary, whether for an office, an administrator to take some of the work off the central group, or for specific projects.  The challenge though, is how to avoid becoming grant dependent, and how to make the project economically sustainable.
Core Text
For the first couple of years, a Transition initiative has little need for external funding.  It can get by fine with small donations, income from running talks and film screenings and the occasional fundraising event.  Transition Haddenham raised some modest funds through selling Transition books at its events, money they invested in an apple press which they now rent out, expecting to have recouped 75% of their investment through rentals just in the first year.  Transition Denman Island in British Columbia ran an all-day 'Transition Expo' event, where 34 different groups from across the island came together to talk and to network, and the Transition group made $240 from serving refreshments to the event.  Some initiatives also raise money through members of the initiative giving talks to other organisations.
Blake Poland from Transition Oakville in Ontario, Canada, has raised over $1,000 for his initiative through giving talks to other organisations in the area.  Transition Hackney made use of Pledgebank.com (tagline "I'll do it, but only if you help") in order to fund three of its members doing Transition Training.  One member offered to pledge £10 to support this, but only provided another 9 people did the same.  In the end, enough money was raised to send 3 people.
After a while though, an initiative will reach a stage where more significant funding is needed in order to move things forward.  This can be specifically for practical projects, or it can be for core services.  There is a tension here, and two schools of thought have emerged.  Joanne Poyourow of Transition Los Angeles promotes the idea of 'resilient non-profits', arguing that Transition initiatives need to be designed in order to be 'peak-proof', and resilient in the context of economic contraction.  She argues that "it is absolutely absurd, in this post-peak day and age, to set up a non-profit organisation with the expectation that it will run on society's cash surplus (i.e. donations and grants)".  Her point is that most grants are given out by organisations who distribute the cash surplus which has, in turn, been generated by our historic energy surplus, which is now drawing to an end.  We are in effect, she suggests, nearing 'peak grants'.  The model she suggests is to keep a Transition initiative as nimble and light as possible, holding as little in the way of money as possible, operating without paid employees, without premises, without incorporating as a legal entity, and without 'stuff' where possible, as in all the usual clutter that fills offices.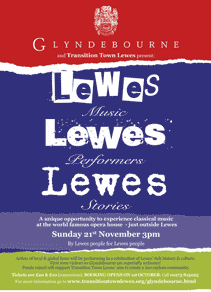 While this is an approach that may well appeal to some initiatives, I think there is also an important role for seeking more formal funding, and for creating more formal initiatives.  There is a good role for explicitly fundraising events, big pushes to raise funding to support the organisation.  Transition Town Lewes, for example, held a gala fundraising night at Glyndebourne Opera House (see right).  Transition Town Totnes has held Slow Food Banquets, Halloween Ceilidhs, parties and other events as fundraisers.  There is also an important role for local philanthropists to support the work of Transition initiatives.  In Totnes, one local supporter donated £5,000 which funded a member of the group to spend some time submitting funding applications, which generated over £90,000 worth of grant funding, a great example of using a small amount of donation to unlock a much greater resource.
Applying for grants takes time and a varying amount of effort depending on the funder, but it can be well worth doing.  Establishing a track record with small grants first can help with larger applications, as can providing some hard data about the impact your work is having.  Try and design into each funding bid (not all funders will allow it) a percentage that goes back to supporting the initiative's core costs.  Often funding is linked to specific projects.  For example, Transition Tranås in Sweden got €11,000 from the local LEADER Fund for creating a local food map, and New Forest Transition got ?  As a rule of thumb, the larger the potential funding award, the more of an investment of time is required in order to apply for it.
Fiona Ward of Transition Consulting offers the following tips for groups sitting down to do funding applications:
1.       Figure out what you need funding for: collect ideas for projects, decide on evaluation criteria to help you decide which projects are most important to you, assess and priorities with your core group, and then create a 1-2 page summary of the project which you can refer to in any funding bids
2.       Identify Potential Funders: a good match makes a bid worth your while, otherwise you are wasting everyone's time, you can get good advice from your local CVS, your local Council might issue funding updates which can save you a lot of legwork, have a look at the free funding database created by government for the Third Sector, ask any rich contacts you might have!
3.       Create Applications: when filling out the applications, give them only what they ask for, and ensure you relate the bid and your answers to their needs and objectives, not the other way round: you need to also keep track of any conditions they might have such as reporting back (if you are successful),
In the long term though, grants will only get you so far, as they tend to be limited to projects with a particular duration, and core funding is notoriously difficult to obtain.  New models are needed whereby Transition initiatives become more entrepreneurial, seeing the ideas and projects they are developing as having value as replicable ideas, as putting in place new energy and food infrastructures in such a way that some of the added value returns to support the Transition initiative.  Transition Town Totnes, off the back of its Energy Descent Action Plan process, has identified a 3 year process of becoming independent of the need for grant funding, through a mixture of setting up social enterprises, building a membership base who pay an annual amount, co-ordinating 'Transition Tours' of groups visiting the town to find out about Transition, and other income generating activities.  Might we envisage a future where Transition initiatives function as significant enterprises in their community?
In this I am often inspired by the Cooperative movement in the 1860s in the north of England, which set itself up in such a way that within a relatively short period of time it was a significant generator of employment.  If from the start, Transition initiatives can be skilful about this, and can design their activities in such a way that as their various enterprises are generating money to support the initiative's core activities, then this will, over time, become a very sustainable way to resource the initiative.
The Solution
Give some serious thought to how you might finance your Transition initiative.  Rather than just looking at grants, try to take a broader and more creative approach to the question, and look at engaging funding from some of the following; using Pledgebank, finding local philanthropists, sponsorship from local businesses, offering consultancy services, running fundraising events, and a range of other approaches.  Try and look at what aspects of your Transition group might be able to get up and run as social enterprises, bring in training when appropriate.  Try and plan in the long term rather than living hand to mouth.
Connections to other ingredients
If you approach funding organisations, be mindful of HOW OTHERS SEE US/HOW WE COMMUNICATE (1.6), and also the importance of MEASUREMENT (2.5) in terms of being able to demonstrate the impact your initiative is having on the ground.  You will need to think carefully about how you see the best way forward for your initiative, including such questions as TRANSITION TOWERS: HAVING AN OFFICE OR NOT? (3.1) and whether you will rely solely on VOLUNTEERS (3.2) or will want to have paid staff.  WORKING WITH LOCAL BUSINESSES (3.12) can be a good way of raising small amounts of funding.  It is useful to think long term, in terms of creating COMMUNITY SUPPORTED AGRICULTURE/FARMS/BAKERIES (5.9), STRATEGIES FOR PLUGGING THE LEAKS (5.6) and other SOCIAL ENTERPRISES (5.2) from which a percentage of the profits generated can be tithed back to help support your Transition initiative's core services.