15 Oct 2010
'Diverse Routes to Belonging' draft programme now available!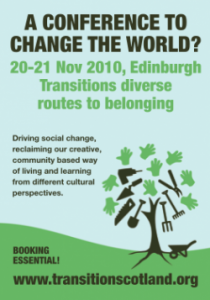 Here is an update on the forthcoming Transition conference in Edinburgh, shaping up to be a fantastic couple of days…
We're very excited to announce that you can now view the conference programme here.  As you will see, there's a huge range of really interesting people coming to share their thinking and working with us – and plenty of space to share our own thoughts and ideas as well.
Things kick off on Friday evening, where the good folks of Transition Scotland are hosting a welcoming ceilidh with music from the wonderful Belle Stars, that's these Belle Stars, not the 1980's pop combo of the same name.  In traditional Scottish fashion, there will be turns from the audience as well…
The following morning we'll meet again to begin the conference, with Rob Hopkins, Alastair McIntosh, Sophy Banks, and Phil Hanlon encouraging us in their unique ways to ask what are the cultural roots that can support and resource us in working to create a more sustainable and sustaining world.
In the afternoon we'll turn our attention to looking, from many different points of view, at the nature of the problems we face.   Some of the highlights of this session will be:
Peter Lipman will be taking a look at the Big Society and looking at the opportunities and threats it presents to community resilience.
Justin Kenrick will be asking: what are the processes of enclosure that threaten our common world? What can we learn from indigenous peoples ability to connect the political, cultural and inner processes of transition that sustain their commons?
Verene Nicolas will be looking at the inevitable conflict that arises in groups of all kind and at ways to deal with it.
Sophy Banks and Emily Watts will facilitate a session for the whole group, which will give us space to tell our own stories, and to get to know one another's cultural histories.
We'll then have a lovely dinner laid on for us, and an evening of entertainment to look forward to (and participate in), compered by our scintillating host, John Ireson from Transition Edinburgh, and featuring Moving Sounds' great show 'Connected'.
On Sunday morning, after a quick stroll up Arthur's Seat – or maybe a spot of chi gung, we've got an amazing line up of people who've come to tell us about projects they're involved with, including:
There is a parallel young people's event on site, facilitated by Moving Sounds, and tailored to the interests of the participants, so it's sure to be hugely enjoyable.  There are also parallel events happening in Brazil, Germany and Spain, and we're planning to have opportunities, both real time and recorded on-line, to make contact with these groups and find out how things are going with them.
We think this will be a very exciting and useful couple of days!  We hope you'll join us – click here to go to our website and book your place.