7 Oct 2010
Ingredients of Transition: Energy Descent Action Plans
Context:
Key to making the step from FORMING WORKING GROUPS and developing PRACTICAL MANIFESTATIONS to SCALING UP and starting to conceive of and implement STATEGIC LOCAL INFRASTRUCTURE is the creation of an Energy Descent Action Plan. It is a process that combines good MEASUREMENT with VISIONING and BACKCASTING to create a 'Plan B' for the community.
(We are experimenting with calling these 'Ingredients' … people seem to be preferring it.. we are collecting and discussing them on Transition Network's website to keep all comments in one place. Please leave feedback and comments, suggestions for alternative pictures, anecdotes, stories and projects for this ingredient here). 
The challenge: 
Faced with a future of unprecedented uncertainty and potential for shocks, the way our leaders plan for the future is based on deeply flawed assumptions. They assume that the future will be one of cheap energy, economic growth, growth in car use and so on. Designing for such a future at a time when it shows little promise of ever actually coming to pass is futile and irresponsible. At the same time, communities often feel unable to design for their own futures, seeing that as something done elsewhere on their behalf. Without a practical route map, a plan for the future, a new story about what Transition looks like in the context of the community in question, Transition will not get beyond just being a collection of individual projects.
Core text
The Transition 'Cheerful Disclaimer' was never writ so large as when we start talking about Energy Descent Action Plans (EDAPs). Examples exist, but so far, all really offer work-in-progress rather than a tried-and-tested model. There are some excellent peak oil plans being developed around the world, as well as some excellent climate change strategies. An EDAP though is a bit different, in that it emerges from a community, and is as much an exercise in storytelling and visioning as it is about planning.
In essence, an EDAP is a Plan B for the community, a drawing-together of the visioning and backcasting work done up to that point, telling the story of how the Transition could happen. Rather than Transition being a disparate assembly of projects, an EDAP pulls together a range of initiatives and puts them in the wider strategic context of intentionally planning for the relocalisation of the settlement as a whole. But what exactly is it? Is it a 'plan' in the accepted sense of a step-by-step plan with stated outcomes, is it a vision document, a story, painting a picture of how a powered-down future would be, or is it a rewriting of Council policies, showing how enlightened leadership would promote Transition? Fact is, nobody knows for sure, it's too early to tell, but we do have some experience now to go on.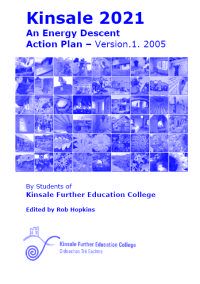 The first one, the Kinsale Energy Descent Action Plan, was a student project based on the question "what would it look like if?" Although much celebrated, it was based on very little community consultation and was largely a student initiative. Transition Sunshine Coast's EDAP was produced largely like Kinsale's, as a project co-ordinated by students on a 'Time for an Oil Change' course. The final plan though had a far wider political impact. It led to Transition being featured in the Council's climate change and peak oil strategy and in their draft Energy Transition Plan, and to the Council's stated vision being "to build a low carbon, low oil, resilient future for the Sunshine Coast".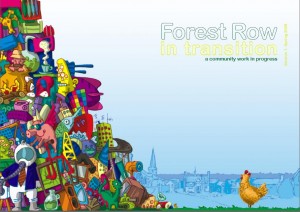 In 2009, Transition Forest Row produced 'Forest Row in Transition: a community work in progress' , a short 'pr-EDAP', which offered a brief and playful vision of a powered-down future Forest Row. Their budget didn't enable them to do indepth research, and they didn't feel they had enough members of the community onboard, so they decided to write something very accessible, a narrative, combining graphic design, humour and some information. Reflecting on its impact, Mike Grenville of TFR told me that it raised local credibility and awareness, but it would have been better with some market research before and after its publication in order to assess impact. It does continue to be something that is a source of inspiration, referred back to regularly.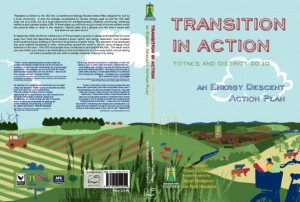 The most substantial EDAP so far was 'Transition in Action: an Energy Descent Action Plan' produced by Transition Town Totnes in June 2010 . This emerged from many community visioning workshops and other activities, and offered a powerful vision of the Totnes of 2030. It began with an oral history of Totnes in the 1950s, and then explained the role of storytelling, before presenting a detailed timeline for the transitioning of food, energy, housing, education and much more. It also contained two detailed pieces of research, 'Can Totnes and district feed itself?' and an Energy Budget for the area. Reviewing the Totnes EDAP in i4 magazine, Michelle Colussi wrote:
In short, as impressive a document as Transition In Action is, it falls short of being an Energy Descent Action Plan. Instead, it seems to be more of a vision – a remarkably explicit, exciting, and community-based vision that tells us exactly what is to come about, but not how or by whom. Ultimately, the document acts like more of an Energy Descent Invitation, than a Plan. It entices other communities to have a go at the process for themselves. Given the time and resources that an EDAP will require, will this invitation be compelling enough?
From the learnings from these attempts at an EDAP, what can we state in terms of what a Transition initiative needs in order to embark on such a project? At this stage, it would appear that you would need:
a dedicated group of people for whom creating an EDAP is what fires their passion, is the thing they most want to bring about for the Transition initiative
good links with as many other organisations in the community as possible (i.e. the local council, schools, other environmental groups, community groups and so on), so the plan can represent their views as much as possible, and get them engaged in its creation
some dedicated resource for the project, it is an impossible project to pull of with no budget whatsoever (you'll need to run events, hire rooms and halls, produce materials and so on…)
strong Transition working groups who can drive forward, collaboratively, their parts of the Plan
a good level of awareness raising to have been done, so that an EDAP process isn't constantly having to start from square one every time
space in the Transition initiative's programme of events for EDAP to become a theme that runs through it
good web facilities to enable discussion of ideas, collaborative editing of drafts, promotion of events.
One big question that arises is what all this might look like in an urban context? This is a question being wrestled with by Transition Town Brixton in London. Their food group has run a big Open Space day on food, and has started drawing together the range of visions that have also been generated at other events, including their Unleashing. The question they are wrestling with though is what a city EDAP looks like, and whether what they should be in fact developing some kind of a template that other urban groups can use? In the urban context we might ask whether individual parts of a city can intentionally look at powering down, or whether this can only really be co-ordinated on a city scale? Would it be better if the Council took a lead and Transition initiatives supported their work (the Bristol Peak Oil Report is an example of such an approach)? In a city, would the amount-of-work-put-in to tangible-output ratio be justified? These are all unknowns, yet to be tested. What does feel clear though is that some form of drawing together of the visions and practical next steps for an initiative is very fruitful, in whatever form ultimately feels most useful, and most practical, for a given community. 
 
The solution: 
If and when it feels appropriate, design a creative, engaging, playful and research-based community process with the aim of creating a powerful yet practical new story of the future. Use it to make visible the unrealistic assumptions that underpin current planning approaches, and to offer a coherent and positive response to them. Use creative engagement tools to design a process that engages as many members of the community as possible. Start by creating a powerful and attractive vision of a lower energy future, and then backcast from that, telling the story, year-on-year, as to how it was achieved.
Connections to smaller patterns: 
Creating an EDAP is, in many ways, a design project. So, THINKING LIKE A DESIGNER will help greatly. Ensuring that CRITICAL THINKING is one of the filters through which the plan is developed will ensure that it retains coherence and credibility. Drawing in ARTS and CREATIVITY, to make the EDAP as effective a way of communicating as possible, will be critical. Establishing at an early stage the SCALE the plan will cover will be key to understanding the task. You may like to conduct some ORAL HISTORIES for your EDAP, and preparing MEANINGFUL MAPS will help bring the plan to life.
(Please leave comments here).